Tales Of Suspense (Complete)
Type:

Files:

Size:

948.66 MiB (994745610 Bytes)



Tag(s):




Uploaded:

2012-09-05 16:54:38 GMT

By:




Seeders:

6

Leechers:

3

Comments

4




Info Hash:

2B0A2AD7AE599FBDA011617FA9559247E22C1E71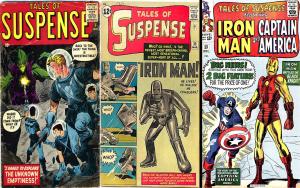 (Problems with magnets links are fixed by upgrading your
torrent client
!)
Tales of Suspense is the name of an American comic book series and two one-shot comics published by Marvel Comics. The first, which ran from 1959 to 1968, began as a science-fiction anthology that served as a showcase for such artists as Jack Kirby, Steve Ditko, and Don Heck, then featured superheroes Captain America and Iron Man during the Silver Age of Comic Books before changing its title to Captain America with issue 100 in April, 1968.  Its sister title was Tales to Astonish.

The early run of the first volume of Tales of Suspense ran from issues 1-38 (January, 1959 – February, 1963,) initially under Atlas Comics, the 1950s forerunner of Marvel.  Atlas Comics became Marvel with issue 19 in July, 1961, the first with a cover sporting the early MC box.  It contained science-fiction mystery/suspense stories written primarily by editor-in-chief, Stan Lee and his brother, Larry Lieber, with artists including Jack Kirby, Steve Ditko, and Don Heck, Dick Ayers, Joe Sinnott and Paul Reinman.  Issue 9 (May, 1960) introduced 
Chondu, The Mystic, as an anthological-story character.  (He would be reintroduced as a supervillain in 1970s comics.)

Issue 39 (March 1963) introduced the superhero Iron Man, created by editor and plotter Lee, scripter Lieber, and artists Heck and Jack Kirby.  He starred in generally 13-page but occasionally 18-page adventures, with the rest of Tales of Suspense devoted to the anthological science fiction and fantasy stories the comic normally ran. This issue was reprinted in its entirety in 1994 as Marvel Milestone Edition: Tales of Suspense 39. 

Beginning with issue 59 (November, 1964,) Iron Man began sharing the now split book with Captain America, who had guest-starred in the Iron Man feature the previous issue.  Jack Kirby, Captain America's co-creator during the 1940s Golden Age of comic books, had drawn the character as part of the superhero team, The Avengers earlier that year, and was now illustrating his hero's solo adventures for the first time since 1941. Issue 63 (March, 1965,) in which editor-scripter Stan Lee retold Captain America's origin, through issue 70 (November, 1965) featured period stories set during World War II, and co-starred Captain America's Golden Age sidekick, Bucky.

Tales of Suspense became Captain America with issue 100 (April, 1968.) Iron Man went on to appear in the one-shot Iron Man and Sub-Mariner 1 (April, 1968), and then debuted in his own title with Iron Man 1 (May, 1968.)

All 99 issues of this great, old magazine are included in this torrent for your downloading and perusing pleasures.

NOTE:  These are not my scans.  All praise and glory to the original scanners, please.